Monday Meet-up - twice a month.
Our regular meeting-up night takes place twice a month on a Monday evening. We meet at Chapter in Canton or The Three Arches in Heath - see the programme for detail.

Come along at any time from 8.30pm, when there should be a host or hosts to meet you, explain a bit about how the club works and introduce you to other members.

For Cardiff IVC members, Club Nights are a good chance to catch up on the news, make arrangements to get together and to plan new events, which are written into the club diary.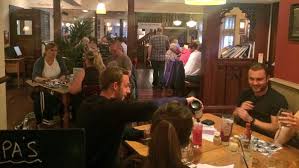 Each month, the diary entries are compiled into a programme, which is distributed to all club members. In the Cardiff IVC, we pride ourselves on the number and range of events that our members can choose from.

There will normally be something happening every day - often there's a choice!